Today is D-Day (well it was during the war)
Our Dad was in the South Staffs Pioneer Corps, which I have found out were part of The Royal Engineers. His badge was the Rifle, Shovel and Pick with a Laurel wreath.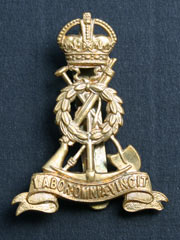 8 Jun 44 Landed in NORMANDY
Officers:-
Maj H Butcher – OC
Capt J H Wilson – 2IC
Lts A G H Holmes, H R Robinson, F P Davis & E J Roffey
9 Jun 44 Commenced unloading stores on beaches
17 Jun 44 Moved to CEPON – ½ coy on Ord stores and ½ on ammunition
28 Jun 44 Moved to LA RIVIERE for work in transshipment area
3 Jul 44 Moved to BRETTEVILLE
4 section at RE dump
2 sections on salvage in front line at CHEUX
The above is an extract from my fathers Company Diary for the month of the Landings. Dads details were as so:
Private 13702651
Stackhouse G.E
Born 01-05-1914
Died 30-12-1994
130 Coy R.E
He arrived from England a few hours before going ashore as part of the detail, and was put on unloading and storing ammunition.